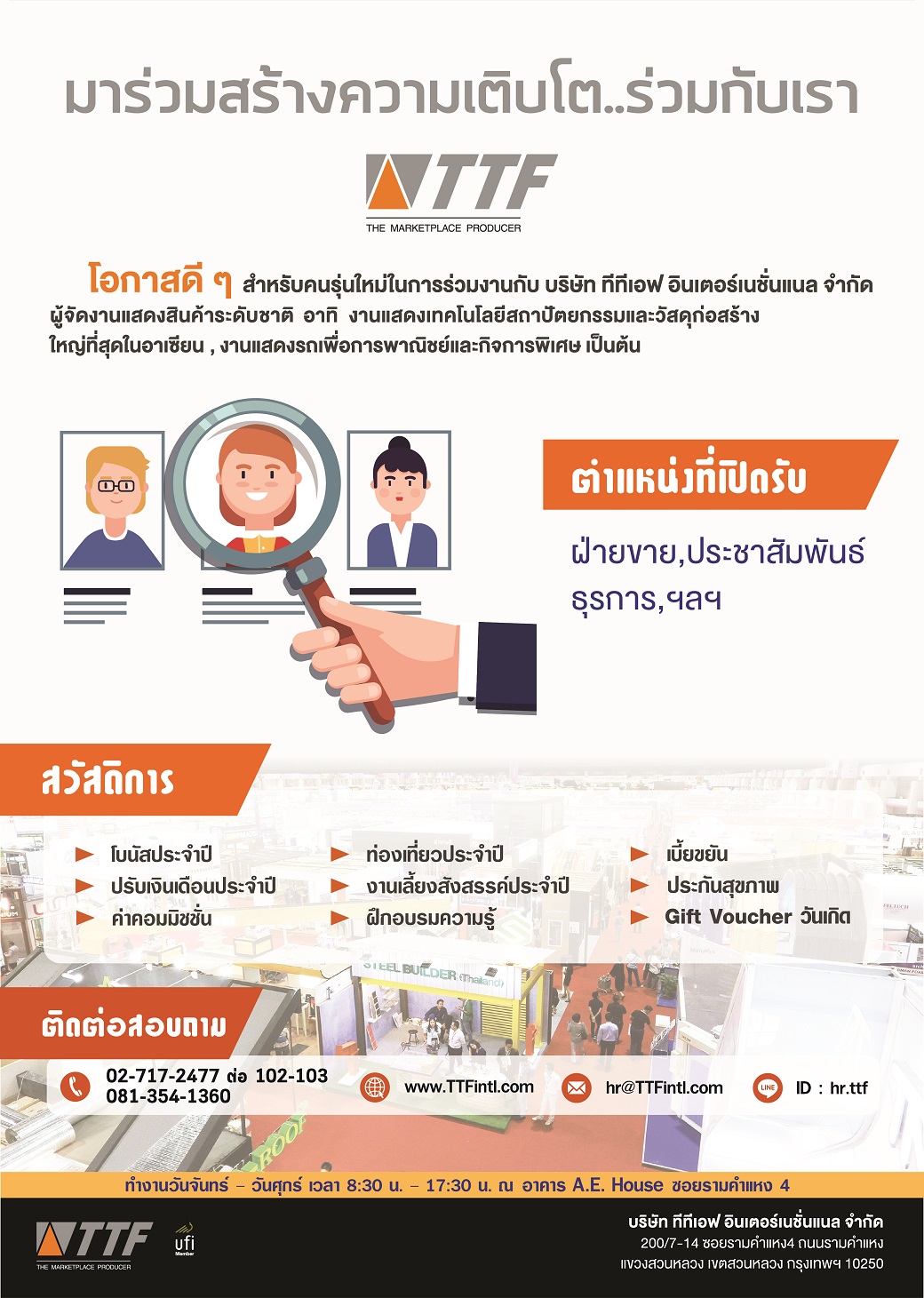 ตำแหน่ง Operation Officer / Senior
Responsibilities :
รับผิดชอบ บทบาทและภารกิจด้าน การบริหารการจัดการและการวางแผน รวมถึงการควบคุมการดำเนินการให้ตรงต่อเวลาที่กำหนด
สนับสนุน งานด้านข้อมูล รายละเอียดต่างๆ และ งานเอกสาร ให้กับฝ่าย/ แผนก ภายในองค์กร
นำเสนองบประมาณค่าใช้จ่าย และแนวทางการบริหารจัดการ ต่อ OP Manager
ให้ข้อเสนอและแนะนำการทำงานต่อ พนักงานในฝ่ายได้อย่างมีประสิทธิภาพ
นำเสนอแนวคิดใหม่สำหรับการทำงาน เพื่อเป็นการพัฒนาการทำงานของฝ่าย OPERATION
จัดเตรียมและดำเนินการด้านเอกสารต่างๆ สำหรับงานแสดงสินค้า และควบคุมงาน On site ในด้านต่างๆ ตามที่ได้รับมอบหมาย
อื่นๆ ตามที่ได้รับมอบหมาย
Qualifications :
เพศชาย / หญิง อายุ 20 – 35 ปี
จบการศึกษาระดับปริญญาตรี
ประสบการณ์การทำงาน : 3 – 5 ปี ในสายงาน Exposition (ตำแหน่ง Senior)
สามารถใช้โปรแกรม AUTO CAD
สามารถปฏิบัติงานกราฟฟิค และงาน Design 2D 3D ในระดับพื้นฐาน
คล่องตัวและมีความยืดหยุ่นในการทำงานสูง
มีบุคลิกภาพและมนุษยสัมพันธ์ที่ดี
สามารถทำงานภายใต้ความกดดันได้
**หากมีทักษะทางด้านภาษา อังกฤษ และ ภาษาจีน จะได้รับพิจารณาเป็นพิเศษ

ตำแหน่ง PR & Activities Senior / Supervisor
Responsibilities:
Create and deliver Press Release, Online Content, Executive Speech, MC Script.
Assist to contribute the development of strategic marketing, advertising and public relations plans for the TTF brand portfolio.
Arrange company events such as Press Conference, Seminar, Activities, etc.
Create idea and design artwork for advertisement and support the company to design sales tools such advertising artwork, presentation, banner etc.
Collaborate with Operations, Online Content, Electronic Media and Sales to manage projects such as websites, creative design, promotion of exhibition, activities.
Creatively accomplish marketing objectives within budget guidelines.
Qualifications:
Bachelor/Master's Degree in Communication Arts, Marketing, Management, or any related fields
Preferable at least 2-3 years working experience. Exhibition Organizer or Media Agency experience would be advantage
Self-motivated, ability to work in team and high responsibility
Ability to manage and supervise multiple projects simultaneously
Creativity
Excellent communication and presentation skills
Excellent command of both written and spoken English
MS office proficiency

ตำแหน่ง Sales Representative
Responsibilities :
Sales for Exhibitor Space of company project.
Selling advertising materials in magazines and websites.
Responsible for sales target.
Compliance with company policies and sales plans.
Have skills in closing, persuading, responding to arguments. And the problem solved very well.
Customer service and customer service as a representative of the company.
Gather important marketing information, comments, or customer needs.
Generate sales leads for our exhibition portfolio in Asian.
To oversee and manage the entire exhibition process by executing set activity schedule and understanding of all stages of exhibition processes in order to ensure all exhibition processes run smoothly.
Be involved with selling to prospective clients and approach exhibitors on a regular basis.
To work with the operation, marketing and sales team to lead the project team toward success.
To identify problem issues, develop all aspects of exhibition project and propose the project development for the related fields.
Complete other ad-hoc tasks as needed.
Qualifications :
Male / Female Thai Nationality
Bachelor's degree in MICE, Hotel or related Sales and Marketing, any field.
Fluent in verbal and written English (other languages are a plus)
Curiosity and self-confidence to learn, improve, and challenge
Good personality, good looking, ability and to work under pressure with a tight deadline.
Excellent communications and service-minded.
Strong presentation, interpersonal, problem solving and decision-making skills.
Own transportation will be advantage.
Experience in Exhibition Organizer would be advantage.
New graduate is welcome.

Responsibilities:
Contacting potential or existing customers to inform them about a product or services.
Answering questions about products or the company.
Asking questions to understand customer requirements, and arranging appointments with successful conversions.
Directing prospects to the Field Sales team when needed.
Entering and updating customer information in the database.
Taking and processing orders in an accurate manner.
Handling grievances to preserve the company's reputation.
Qualifications:
Male / Female Thai Nationality
Age not over 30 years
Bachelor's degree or higher in any related field.ประสบการณ์(ปี) : 1 – 3
Ability to learn about products and services and describe/explain them to prospects
Excellent communication and interpersonal skills.
Cool-tempered and able to handle rejection.
Outstanding negotiation skills with the ability to resolve issues and address complaints.
New graduate is welcome.